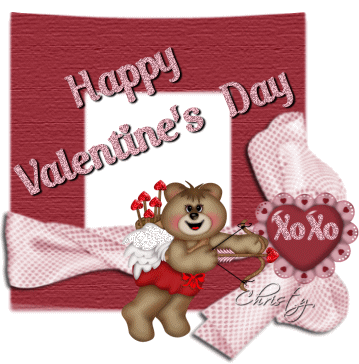 Tomorrow, Sunday February 14, 2010 is not only Valentine's Day of course, but the first birthday of my sweet, youngest granddaughter Donatella Valentina. How adorable is that name?
Donatella (Tella) is the youngest child of my youngest son James and his wife Larissa. She is also the much loved baby sister to Capri and JD. Donatella is one of the sweetest babies I have ever had the pleasure to be around, and I have been around quite a few, haha. She is SUCH a sweet little thing. Easily amused, and easy natured she is quickly entertained and contented. She loves to snuggle and give kisses, and has the biggest, prettiest shade of blue eyes, fringed in dark black lashes, I may have ever seen. And with all the beautiful blue eyed little people in our family, that is saying a lot. Oh how I love her! She has already been walking for a few weeks now, and is a busy, happy baby. Tella loves to dance! Any music within her hearing and she's got her little body swaying and swinging. It is soo adorable. She is saying a few words already, and like her older sister Capri (and OK, her Grandma too) she seems to have a serious sweet tooth. She is the perfect finishing touch to their little family.
I look forward to watching her grow into all God would have for her, and thank Him every day for this wonderous gift to us all. HAPPY BIRTHDAY DONATELLA, and may the Lord bless you, and keep you, and make His face to shine upon you, now and always. Loving you always and forever, Grandma
This Sunday is Valentine's Day and I imagine literally millions of people will celebrate this day with flowers, candy, cards, and gifts. Red and pink hearts, Cupid's with bows and arrows, and sweet little Teddy Bears have been stocked on the shelves of our stores since the Christmas clearance items were also being displayed. I have always loved this holiday, and this year is no different. I tried to set our wedding date for Feb. 14th, thinking what a perfect day to celebrate with a marriage ceremony; however it seems way too many others had this thought before I did, as the church was already completely booked. We settled on the first of February and yet every year for 35 years we have had somewhat of a combination celebration of these two days. For me the short month of February has always gone hand in hand with thoughts of romance and love.
In Scripture we are told that God IS love…
1John 4:7-8 Beloved, let us love one another, for love is of God; and everyone who loves is born of God and knows God. He who does not love does not know God, for God is love.
In the world we all live in, love is usually thought of in the way I have described above. Moonlit walks, candlelight dinners and romantic celebrations come to our minds. And yet REAL love that comes only from God is really very different. God loves us all in a perfect and everlasting way. In this passage of scripture, John's emphasis on love among the people of God is powerful. Here, he shows why it is so important. If love is of God, then those who claim to be born of God, and claim to know God, must be able to love one another in the body of Christ. Again, John insists here that there is something that is given to the believer when they are born of God; a love is imparted to their life that they did not have before. Christians are not "just forgiven", they are born anew by God's Spirit. John is saying when we really experience God it will show by our love for one another. Of course, this love is not perfected in the life of a Christian on this side of eternity. Though it may not be perfected, it must be present ~ and it should be growing. You can't truly grow in your experience of God without also growing love for one another. John can boldly say, "He who does not love does not know God." If there isn't real love for God's people in our life, then our claim to know God and experience God just isn't true.
My prayer today is that this love that God speaks of will SO fill my heart and life that there is nothing it can do BUT spill out to others around me. I so want for everyone to experience and know His love in their lives as well.
HAPPY VALENTINE'S DAY
to you all, and may the Lord make His face to shine upon you now and always.
I'd like to ask your prayers for my son James as he travels to Costa Rica with a group of the high school kids on a mission's trip for their church Maranatha Chapel. As most of you know, James is the High School Pastor at this church. The trip already had a shaky start in that they were scheduled to leave EARLY (4:30 am) yesterday morning, but the flight was cancelled due to weather. They are scheduled to fly out again Monday morning at the same early time and be gone for a week. There is much on the agenda for this short week, but the kids are all eager to serve. Please pray that the Lord watches over them all, and that they are able to accomplish just what He has planned for them; I appreciate it so much.
1John 4:19 We love Him because He first loved us.
Jeremiah 31:3 The LORD has appeared of old to me,"Yes, I have loved you with an everlasting love; Therefore with lovingkindness I have drawn you.
To join Charlotte and Ginger and the other Spiritual Sunday posts, click

HERE
.