Psalm 84:12 O LORD of hosts,

Blessed

is the man who trusts in You
!
Well it's the first Thursday in August already and time I have decided to do a "thankful" post as it has been a while since I have done so. There are as always soo many things to be thankful for. Here are just a few that have been on my mind.
I am thankful for the fact that my mother is home and is really doing pretty well. She gets tired easy, and seems a little anxious, but otherwise she is moving right along like she was. She will be 79 years old next Tuesday, and we are all glad to be celebrating with her.
I am thankful that my stepdad got a good report on his last test and seems to be having more good days this week than bad, and certainly better than the week before.
I am soo thankful that I am getting to go to see Melody in a couple of weeks. She too is doing WONDERFULLY and so far there have been no more bleeding episodes. I am grateful for each week that she makes it through, and can hardly believe she has reached week 30 today. She can be considered term at 37, and her doc has said he will be thrilled if she makes it until at least week 35...only 5 more to get there. She is busy "nesting" haha, getting everything together that she needs to finish up the nursery; sooo many cute little things. She has discovered Etsy, and is having such a good time with it. I am also grateful that she covets my opinion, and is waiting for me to put it all up. : )
I got Mel to shoot me a pic this morning of her at 30 weeks. I am thinking she doesn't look much bigger than she did at 26 weeks when she was here. She assures me she is though, haha...guess I will see for myself in another couple of weeks.
I am grateful that I have been given another 6 months before I have to check back in with my oncologist. I saw her yesterday and all is PERFECT as she said. Praise God. I will admit I DON'T like going there. I DON'T like even thinking about it all. I began dreading it a few days ago and am soo happy it is behind me for another 6 months. I don't know if I will ever be able to properly express my gratitude that the Lord has seen me through this journey, and that everything turned out the way it did. Like I said before there are times where I find myself feeling a little guilty that it was all as "easy" as something like this can be.
I am grateful that the Lord seems to have soo many exciting plans for my son's church and that all is going so well there. Some pretty big changes are going to take place within the next month or so, and I am anxious to see it all fall into place.
I am grateful for my DIL Larissa, as I have decided we are such kindred spirits. How wonderful it is to have her close by.
I am grateful for my home, the food in the refrigerator, and our air conditioner, haha. It has been quite hot recently!
I am grateful for the patterns that I found yesterday for some things I want to make for myself before we leave for Mel's. I am hoping that they fit as well as I think they are going to.
I am grateful that my sweet granddaughter Annabel should be able to spend some time here with me next week.
I am as always forever grateful for my wonderful husband. He works soo hard to provide for us, and in today's economy it has become such a chore. He never complains, and still does soo much for me after he gets home. He is my biggest cheer leader, encourager, and friend.
I am also VERY grateful for all of your prayers, comments, notes, and e-mails for my parents and Melody. How I appreciate it can never be expressed enough!
I guess that is it for now. The summer is flying by. I am happy about that on one hand as it means that baby Sam is getting closer and closer and fall is around the corner. How I LOVE the Fall. But on the other hand it seems sometimes as though the time races by and I don't do as much as I would like to for the Lord. I want soo much to focus on what matters and counts for eternity, and not just what it takes to get through each day and week here. I am praying about what He might have me do come Fall, and look forward to some interesting possibilities. Hope you are all having a WONDERFUL week!
Col 3:15 And let the peace of God rule in your hearts, to which also you were called in one body; and be

thankful.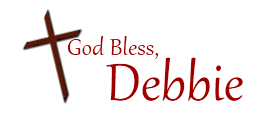 To join the other thankful hearts, click HERE.