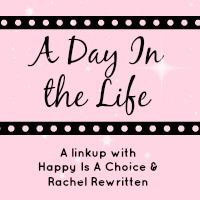 After visiting Lea this morning over at
Ci's Ci's Corner
, I decided to join in with the blogging party she was attending. You were to just post about a day in your life. Soo up my alley. I too LOVE to hear what someone's ordinary day looks like. I think most of us post of the "out of the usual" stuff, or the fun stuff, or the places we go and things we do. Which don't get me wrong I know makes for interesting reading and in some cases inspiration or even encouragement. But I do like to get to know people in their "ordinary" roles. Soo let's see. What can I tell you about mine? ALL of my days start early! By like 5 or 5:30! Sleeping in is just not something I do. Not sure why. Just the way I am wired I guess. It has always driven my kids wild, lol. But I have MOST of my mundane things done early in the day this way which leaves me to enjoy the rest of the day as I want, or get some extra things done etc. This week has NOT been ordinary in that so far I have had to be someplace everyday, so I will just go back to a day last week. Like I said I rise early and immediately make my bed. (a habit I TRIED to get my kids to copy but never did succeed!) and wonder out to the kitchen for a cup of tea. Hubby is in the shower, so I then sit down in a chair in my room and spend a while on-line. Kind of like the old days of reading the paper. I browse through the headlines of what is happening, spend some time on Facebook, and then usually visit a few blogs. Hubby and I chat back and forth while he is getting ready for work usually discussing what I am reading. By 6 I am in the shower preparing for my day. IF I plan to leave the house on the day make up is usually next. If not, I let my skin breathe on the day and hope no one unexpected happens at my door that I might frighten, lol. Next on my list is "pulling my house together". How my mother hated that expression, lol. The year she lived with me she was ALWAYS saying, "Why do you say that? What on earth are you pulling? It's called straightening, Debbie." haha. But I regress....Pulling the house together consists of straightening (guess she might have been right!) and picking up whatever was left lying around and unloading the dishwasher etc. Then I make my breakfast (which is identical every day btw) and pretty quickly eat it and take my MOUNTAIN of vitamins and supplements.
COMFY CHAIR WHERE I CHAT ON THE PHONE, SPEND TIME IN THE WORD, AND WATCH MY TUTORIALS, LOL
I whip the breakfast mess away, make myself a second cup of tea, and usually about then (around 7) my younger sister is driving to work and she and I chat for a while as she drives in. She used to spend this time everyday chatting with mom, so I have kind of filled in that void for her and I have come to thoroughly enjoying it. After that it is my devotional/Bible study time. I spend AT LEAST 30 minutes or so in the Word and prayer and then I set to work on my most recent Bible study. I am in the middle of another Beth Moore study right now on the book of James. I love it. If I am busy on the day or have somewhere I am going etc., I might skip the Beth Moore part, but never (or rarely anyway) the other quiet time as I have learned from experience the rest of my day never goes as well if I do. After this time I usually water a little on the porch (California needs a lot of watering time!) put a load of laundry in and about this time is usually a good time to call my daughter. Her youngest is taking his morning nap, and the older one is settle outside and she has a few minutes she can chat. By 10 I have completed all these things and I head to my sewing machine.
MY SEWING AREA...
I am KNEE deep in projects right now, and I will admit this is one of my favorite places to be. I am trying not to be stressed right now as I have 3 birthday's in July that I am making gifts for, in addition to working on mom's quilt, a wedding present quilt, and already starting on some Christmas sewing. I sew the rest of the morning away. Usually a good couple of hours. By that point I need a break for my back and neck, and I make myself some lunch and head back to my comfy chair. I frequently chat with my older sister for a while during this time. (sounds like I spend a lot of time on the phone...guess I do, lol) I then spend some time on-line again. Visiting blogs, a brief glance on Facebook (not much time there) and my latest passion....tutorials, lol. I have basically been teaching myself to quilt this way. Can't tell you how many I have watched. I am kind of addicted if I am being honest. I browse through it seems like hundreds of quilting and sewing blogs dreaming of future projects. By 2 I am back at the sewing machine. I sew then usually until around 4:30 or 5 when I get off, clean my mess for the day up, and decide what we are having for dinner so I can get busy on that. Hubby gets home around 6 and we eat. While we eat we chat about our day. I LOVE that he knows every little project that I am in the middle of and asks questions about how it is going etc., or praises what I have completed. I follow his "work stories" faithfully and pretty much know what deals he is in the middle of and what is happening with them etc. We quickly clean the mess together and then settle in for a little TV.
MY COMFY COUCH FOR TV
We have our shows that we watch which are usually some Netflix TV series or another. We both love doing this so it works well. We head into bed around 9:30 or 10:00 and we both spend a little time reading before we turn out the lights. And there you have it. A very ordinary day in the life of Debbie. These days are VERY different from the days I used to live while raising my 4 children, or even the days I lived in the last few years while I cared for mom. And of course the days vary a lot as I am out and about at least a couple days a week as well. Running quick errands, lunching with my friends, Bible study, and of course shopping at fabric stores, lol. There are also hair appointments (have one of those this morning!) nail appointments, and I hope to spend some of these summer days with one grandchild or another. I LOVE one on one days with one of them. It is a busy, full life and I realize truly how blessed I am to be living such a life right now. It can all change in a blink of an eye. I know this from years of experience as well. But for now, this is my life, and I am grateful for it. Hope you all have a good day, and I wish many blessings to you all! Debbie