Well Wednesday just kind of snuck up on me this week, plus I usually do this on Tues afternoons and I was having my hair done yesterday, so I am behind. This also means because I am on West Coast a lot of you have already done your "hodgepodging" for the day and I doubt I will have many readers, but that's OK, lol. If you are looking to join the others, just click on the picture below...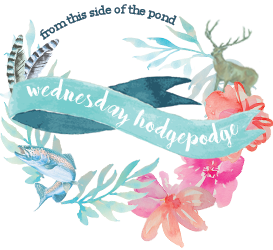 1. Can you tell I'm embracing a Cinco de Mayo theme here this week? Do you like Mexican food? What's your favorite dish? How about on the side - black, beans, pinto beans, refried beans, rice? What about heat - mild, medium, hot? Will you celebrate with Mexican food and drink on May 5th aka Cinco de Mayo?
I LOVE LOVE Mexican food. Living in So. California that's a good thing because there is a Mexican restaurant it seems on every corner. It's hard to pick a favorite, but I think I will go with shrimp fajitas. Again, I LOVE all the sides, but mainly I skip all of those to TRY and keep the carbs down. But IF I weaken and give in I will go with refried beans. HOWEVER, let me just say, it varies so depending on what restaurant we are at as some are soooo much better then others. I don't like TOO spicy or TOO hot though so I usually stick with mild. No, we will not be celebrating with Mexican food on Cinco de Mayo mainly because my Mexican cooking is definitely lacking, and the restaurants will be way too packed for this gal. OH, I feel I should mention that I don't think I have ever gone into a Mexican restaurant that I don't end up eating more of the chips and salsa then I should have, considering I shouldn't eat them at all! (grin)
2 Ever been to Mexico? For work or holiday? Love it or no? If you haven't been is this a place you'd like to visit? Can you speak Spanish?
Yes I have been to Mexico a few times. My parents had friends that had a trailer on the beach in Ensenada that we were able to use a few times for a vacation when we were growing up. I LOVE LOVE LOVED it. We'd walk down the street every morning to get sweet bread for breakfast and then spend the day in the ocean...It was wonderful. I have NO desire to go to Mexico these days however. I can't really speak Spanish. But I recognize many words and phrases and can get some basic ideas across. Both of my best girlfriends growing up and through high school and to this day are Mexicans and I am sure being in their homes and with them has a lot to do with my Spanish understanding. Two years of it in high school did very little, lol.
3. What's one thing you may accomplish this month?
hmmm well, I guess I will go with what I HOPE to accomplish this month, because who knows....but I want to make a patriotic quilt. I am not sure why I have always wanted one, but I just have. I have been looking over patterns and fabrics recently and trying to decide.
4. If you were mayor of your village, city, or town, what's something you'd like to see changed, done away with, revamped, or accomplished? Is serving in public office something you've ever seriously considered?
Wow, this is a tough one for me....Is it horrible to admit I have NO idea? Not that I think everything is perfect surely, or that there isn't always room for improvement and better almost anything, but I just can't say I have any beefs along those lines. I cannot imagine in my wildest imaginings being involved or wanting to be involved in public office. It is just soo not me. However, I am also very glad that all people are nothing like me, because where in the world would we be then?
5. What's something that may be popular, but that you just don't get?
Honestly I think it is the way sooo many in our society have such a "thing" about growing older. All the plastic surgery, botox, and constant strife against wrinkles and aging. Maybe it was because like I said, yesterday I was getting my hair done, and the shop is in Newport Beach. And Newport can be an area that is especially bad in this area, but still. Anyway, all the gals in the shop were discussing their latest botox injections and procedures and who or what was better etc. These were VERY young women btw, in their 20's or early 30's. For goodness sake. They must think I look 100. Now don't get me wrong, I am all for looking your best, staying as current as you want to, and doing what you feel is necessary to accomplish that. But the HUGE over emphasis on such I JUST DON'T GET...
6. Can't let this week slip by without mentioning Thursday May 4th is Star Wars Day. As in May the 4th be with you, ahem. Are you fan of the Star Wars series? Exactly how much of a fan are you? On a scale of 1-10 with 10 being I've seen every film, own the action figures, might have dressed as Darth Vader for Halloween one year, and 1 being what's a Vader?
where do you land? Well I am a fan of the first 3, which I think are the middle 3, but not so much of the others, lol. My boys all owned many of the action figures, and I think one of them was Darth Vader one year for Halloween as well, lol. I'd give myself a 5.
7. Scroll back through your blog posts and in three sentences or less tell us the general theme of your fourth blog post. Does it still ring try today? Is it a topic you re-visit on your blog from time to time?
Well, that was interesting, lol. The name of the post was
Grandkids
so as you know if your read me at all, it still rings true today, and is pretty almost always part of my themes. What can I say, I love my grandkids.
8. Insert your own random thought here...
.All I can think about right now is that I am WAY off schedule for me, and it's driving me wild lol. I am just such a "routine" kind of person I guess. I usually get up in the morning, make my bed, and jump right into the shower. After I am dressed and have poured myself my cup of tea I am heading towards my chair and my morning devotional time, and THEN I go about whatever I might do on the day which does start with a little blogging usually. This morning I made my bed, poured my tea, and sat down and did this and I almost just can't stand it. I must get off and get into the shower, lol. Soo hopefully there are not a lot of mistakes in this as I am not going to check it over, just going to hit publish. Hope you all have a wonderful day. I am behind this morning, but I will be around to visit...right after my shower and devotional time, lol.